History |

MEIN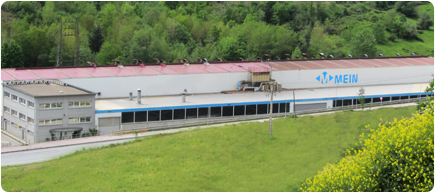 1929

Established in Placencia de las Armas, the company was dedicated to the manufacture and adjustment of shotgun parts.
In

1932

it began work on bathroom fittings and other hardware items cast in brass and aluminium.
In

1936

the business was almost exclusively dedicated to the production brass hardware for doors and windows.


1946

Bathroom fittings and kitchen accessories.


1953

Floods in the Deva basin, with serious consequences in Placencia de las Armas (Soraluze), left the company destroyed and the decision was made to reopen on a different site with no risk of flooding. This was the reason for the move from Placencia de las Armas (Soraluze) to Urretxu.


1954

Reopening of the factory in Villareal de Urrechua. Injection moulding of brass, aluminium and zamak. Modern machinery that was the only of its kind at the time (Patented).
In

1957

a cupola furnace was introduced and casting began of GG20 and GG30 grey iron in the year 1958. Shell moulding machines (Kroning) were also added, as well as the production of motorcycle and car cylinders for air-cooled engines.

1960

Production of nodular cast iron began.


1970

The materials Ni-Hard, Ni-resist, white cast metals and alloys of chrome and molybdenum were added.


1980

The first induction electric furnace was installed and we started producing carbon, manganese and semi-alloy steels, as well as chrome steel castings.


1992

The new plant in Ezkio-Itsaso was built with modern shell moulding and sand casting facilities.
To date, our production of special steels continues.